There are so many different products out there marketed as essentials for new parents and their newborns but what are the things you actually need beyond the obvious? Here are five things that we have found to be nursery essentials for when you are ready to set up your nursery:
Diaper Pail
There are many different diaper pail options out there but so many of them require their own proprietary bags which of course are not cheap and typically only found online for sale. Additionally, many of these diaper pails are made of plastic which will slowly absorb smells and will never smell the same! However there is an alternative and we cannot recommend enough the Ubbi diaper pail. There are two main factors here to consider and the first is that is primarily made with steel which will not absorb odors like plastic will. The second is that it can be used with any garbage bag – no need for expensive proprietary bag systems. We simply used the same 13 gallon garbage bags we use in the kitchen! This diaper pail isn't going to eliminate smell entirely – nothing will manage that, trust me – but it will certainly be an advantage over plastic.
Hatch
For a quiet noise machine to help drown out noise from outside the house as well as my wife and I watching our shows we went with the Hatch Rest 2nd gen. With different white noise options and colors to pick from, it makes a nice addition to baby's bedtime routine. The light and sound also help let baby know it is time for nap and is a key component of nap time routine as well. This has been a really nice addition that I wasn't completely sold on at the start but has quickly become a nursery essential.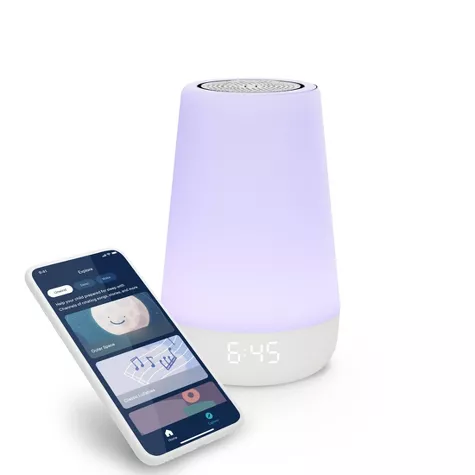 Humidifier
Winters in the midwest can be brutally dry and rough on your skin and so we knew we would want a humidifier for baby's room. It has the added benefit of being at the ready for when baby inevitably contracts a cold or any sort of respiratory illness. And they certainly got their fair share of colds! I have discovered that a baby with a cold is just the worst as there is not a whole lot you can do for them aside from make them as comfortable as you can – and a humidifier running in their room at night is one easy way to do this. We went with the Pore MistAire for its looks and more compact size.
Label Maker
If your partner is anything like my wife then you know that organization isn't something you do occasionally – it is a way of life. Additionally this baby already has more clothes than I do and between my wife and some over-the-moon grandmothers that is unlikely to change anytime soon. To that end, a label maker has come in surprisingly handy. Bins, totes, drawers, extra supplies, everything can have its own label so when you're exhausted from total lack of sleep and baby needs a fresh outfit or you can't find the spare wipes, labels will save the day! We have found the Brother P-Touch not only affordable but incredibly easy to use to the point where I've gone a bit label crazy.
Monitor
When it came time to select a baby monitor I was overwhelmed by the amount of choices – and the cost! There are so many baby monitors out there with cameras and touch screens and apps on your phone that in the end we just went with a very basic, and affordable, VTech audio-only monitor. This has turned out to be a great choice as they are so simple to set up and use and we have found we do not really need a video option. We will occasionally sneak into baby's room to check on them but have not found ourselves wishing we had video. Once you've got your feet under you parenting-wise you'll not even really need the audio monitor unless you're outside or out of earshot. Baby will let you know if they actually need you that much I can confirm!
I hope you found our list of the top 5 nursery essentials helpful! There are so many products out there that you just do not need from wipe warmers (its a cold world kid, get used to it!) to specialized baby bottle sterilizers. If you find yourself wanting some of those 'extras' that might not be essential then I recommend hitting up a resale store and getting them second hand to save your wallet!
What are some nursery essentials that you have?